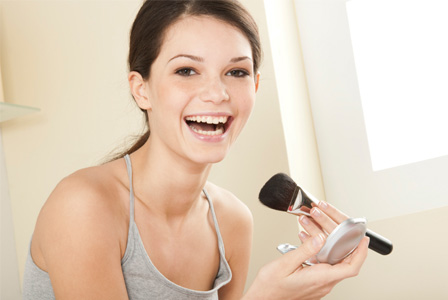 Here's some keys for finding the right foundation for you along with some of my recommendations:
Acne-Prone Skin
: If acne is a major skin concern for you, Almodovar recommends a medium to full coverage foundation to cover textured skin. When applying your foundation use a "clean brush or a clean sponge every application applying the product in a stippling motion."
Recommendations:
Neutrogena SkinClearing Oil-Free Makeup
,
Clinique Acne Solutions Liquid Makeup
(good for reducing redness and blemishes)
Aging Skin
: Heavy product can settle into fine lines and wrinkles so opt for a light coverage liquid foundation or tinted moisturizer for younger-looking, luminous skin.
Recommendations:
COVERGIRL & Olay Simply Ageless Foundation
(Very affordable),
Vapour Organic Beauty Atmosphere Soft Focus Foundation
Dry Skin
: To quench your dry skin throughout the day, use a light coverage, hydrating foundation. When applying your product, use your fingers and press the product into the skin for longer-lasting coverage.
foundation tips source: http://www.makeup.com/how-to-pick-foundation/
Stay Pretty
♥